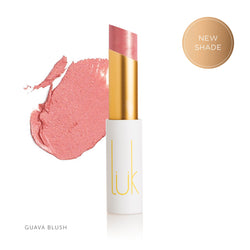 Luk Lipstick
Luk Lipstick Nourish 'Guava Blush'
Luk Lipstick's are Australian made, 100% natural, toxin-free and cruelty free.
These lipsticks are made with a potent mix of nutrient active ingredients. Food contains active nutrients like antioxidants, vitamins and anti-inflammatories that are essential for our skin, body and mind to operate at optimum levels.
An inviting shine and hint of tint with intense hydration for soft, luminous lips. Cold-pressed organic oils from tangerine and pure vanilla bean add fresh fragrance and nourishing antioxidants.