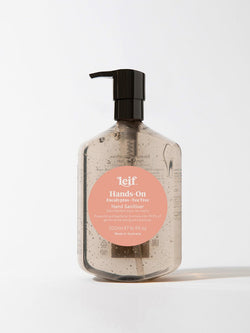 Leif Products
Leif Eucalyptus and Tea Tree Hand Sanitiser 500ml
Eucalyptus and Tea Tree
Aromatic & Clean
Essential oils supercharged with antibacterial properties combine with 70% alcohol (recommended by WHO) derived from natural cane sugar.
This hand sanitiser wipes out 99.9% of germs while being pH balanced to support the skin's barrier. 
An invigorating scent combines with a velvety texture for quick absorption, sans sticky residue. The menthol hit of Eucalyptus and Tea Tree is tempered by Peru Balsam.
Eucalyptus Oil – With anti-bacterial and anti-viral properties, it revives, refreshes, and purifies
Tea Tree Oil – A natural antiseptic that cleanses, disinfects, and purifies to stimulate tired skin. Sandalwood Oil – A warm scent which soothes stress and nervous tension
Sweet Orange Oil – A bright citrus scent known for its uplifting properties
Alcohol (Cane Sugar) – Natural disinfectant derived from cane sugar quickly and efficiently kills germs