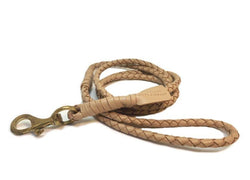 Georgie Paws
Georgie Paws Windsor Lead in Natural
Loving the array of colours in the Australian Bush where not everything is red dust.
The Windsor Lead is 150cm long and lightweight giving your hound the chance to safely explore the footpath.
A fine 8 plait lead buffalo veg tanned leather, that will gain a beautiful patina over time.
Hand made aged brass hardware, not only because it looks great, but lasts so much longer on sea-loving hounds.