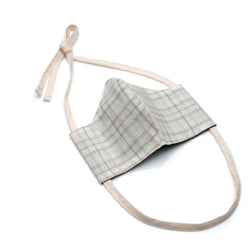 ElizabethW
Face Mask in Plaid Linen
This reusable face mask has adjustable ties for a comfortable fit. It is made of printed cotton outside and lined with U.S. made, organic cotton inside.
How to wear: Place head through bottom loop and position mask over mouth and nose. Pull cord above the ears, behind the head and tie. Wash hands before and after using the mask. Wash mask prior to using it.
Hand wash with detergent and line dry; machine wash in warm water and tumble dry. 
This is a non-medical mask.