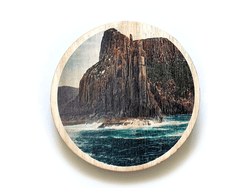 The Spotted Quoll
Cape Raoul Coasters
Cool Climate Coasters are both designed and made in Tasmania from Tasmanian Oak Veneer, printed with designs that can only be described as earthy with a slight retro appeal and packaged into a Eco-friendly Kraft box.
These coasters have been designed for anyone who has ruined a beautiful piece of furniture by unknowingly sitting a hot cup of coffee down, for the traveller who has no room for gifts, for the limited budget shopper and for those that have everything...who doesn't need a set of beautifully designed TAS Oak Coasters to sit upon one's coffee table?
Sold as a 6 pack, same design, 100 mm diameter.
Made from Tasmanian Oak Veneer